https://www.youtube.com/watch?v=hqPWAwNeClg
For my three part blog series I will be covering Ralph Waldo Emerson, the American Poet, writer, and philosopher. First I will discuss a little about his life, then his most famous work, self reliance, then I will discuss his specific brand of philosophy, Transcendentalism. The link above is to a short five minute biography on Emerson in case anyone wished to know a little more about him. He was born in 1803 to William and ruth Emerson. At the young age of seventeen he began writing his first journal, entitled "The Wide World". He soon marries a young girl named Ellen who dies shortly after at age nineteen, and becomes an ordained minister at Boston's Second Church. In 1832 Emerson gave up his career as a minister at was not long after he wrote his first book, nature, which described his own particular brand of philosophy, Transcendentalism. Interestingly enough for a man who once was a pastor, transcendentalism, instead of believing that an individual is at that core evil, like the christian theory of original sin argues, this theory suggests that man is good natural. If people were allowed to be completely self-reliant then they would be inherently good natured, and it is only the society that we live in that pollutes us. This philosophy reminds me of the beliefs of the early eastern philosophy of the daoists who also believed that society was the source of evil in the world. In 1841 Emerson published several essays which included "Circles", "History" and probably his most famous work, Self-reliance.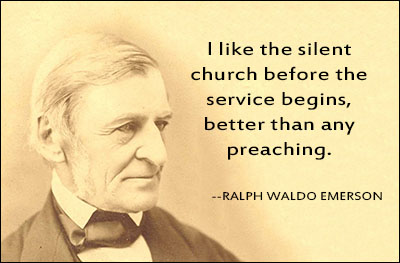 Quote from a man who used to be a pastor mind you
Emerson maintained that the educated scholar was educated by first nature, because nature was what was always there and by studying it, Emerson believed, one could learn about both the laws that the world runs by and about themselves. The other two ways scholars educated themselves, in Emerson's opinion, was by reading books and action. Emerson had a unique view on education because of this, he believed that every student should be greatly respected and instead of a teacher trying to imprint on a student how to think through repetition and practice, they should instead work to guide them toward their own particular way of thinking gifted to them by nature. My next installment of Emerson will move to cover his philosophical beliefs.
This is a good example of Emerson individualistic philosophy in action.
Sources
http://plato.stanford.edu/entries/emerson/