W 23/Th 24 - Augustine (LH); WATCH:
Augustine
(SoL); LISTEN:
Neuroscience & free will
(HI)

1. (T/F) Augustine was a chaste and pious youth, converting to Christianity while still a boy.
2. Augustine's early "Manicheaean" solution to the problem of suffering was to claim what about God?
3. Augustine's later solutions were the Free Will Defense and what?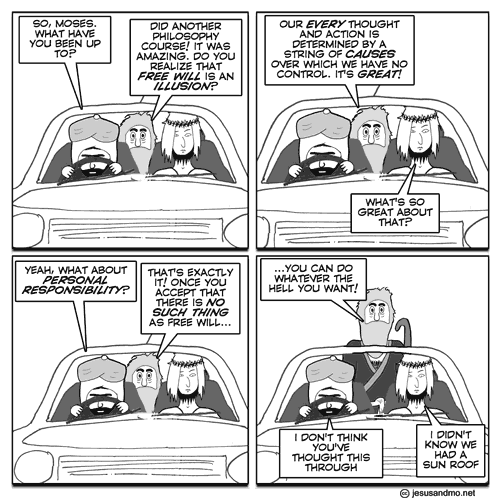 4. Like Maimonides and Avicenna, Augustine represents what tendency of religious medieval thinkers between the fifth and fifteenth centuries?
5. What's the difference between "natural" and "moral" evil? Give an example of each.
6. Augustine thought that if God had programmed humans always to be good, we'd be like what?
BONUS: Which cartoon character says free will is an illusion?
BONUS: What recent controversialist said "good" means supportive of human well-being and flourishing?
DQ:
1. Is it better to embrace (or renounce) religious faith early in life, or to "sow your wild oats" and enjoy a wide experience of the world before committing to any particular tradition or belief? Were you encouraged by adults, in childhood, to make a public profession of faith? If so, did you understand what that meant or entailed?
2. Does the concept of a never-ending struggle between good and evil appeal to you? Does it make sense, in the light of whatever else you believe? Would there be anything "wrong" with a world in which good was already triumphant, happiness for all already secured, kindness and compassion unrivaled by hatred and cruelty?
3. Do you find the concept of Original Sin compelling, difficult, unfair, or dubious? In general, do we "inherit the sins of our fathers (and mothers)"? If yes, give examples and explain.
4. Should religious traditions attempt to combine with, or assimilate themselves to, philosophical traditions? What do religion and philosophy generally have in common, and in what ways are they different?
5. Does the free will defense work, even to the extent of explaining "moral" evil? Is there in fact a logical contradiction between the concept of free will and an omniscient deity? Why or why not?
6. Would we be better off without a belief in free will?
Excerpt:
1
AUGUSTINE OF HIPPO (354–430)
Beware lest any man spoil you through philosophy and vain deceit, after the tradition of men, after the rudiments of the world, and not after Christ.
—Paul, Colossians 2:8
AUGUSTINE, a teenager studying in Carthage in the 370s, begins to ponder what he will one day consider the inevitable shortcomings of human philosophy ungrounded in the word of God. This process begins, as Augustine will later recount in his Confessions, when he reads Cicero'sHortensius, written around 45 b.c.e. The young scholar, unacquainted with either Jewish or Christian Scripture, takes away the (surely unintended) lesson from the pagan Cicero that only faith—a faith that places the supernatural above the natural—can satisfy the longing for wisdom.
"But, O Light of my heart," Augustine wrote to his god in Confessions (c. 397), "you know that at that time, although Paul's words were not known to me, the only thing that pleased me in Cicero's book was his advice not simply to admire one or another of the schools of philosophy, but to love wisdom itself, whatever it might be. . . . These were the words which excited me and set me burning with fire, and the only check to this blaze of enthusiasm was that they made no mention of the name of Christ."
The only check? To me, this passage from Confessions has always sounded like the many rewritings of personal history intended to conform the past to the author's current beliefs and status in life—which in Augustine's case meant being an influential bishop of an ascendant church that would tolerate no dissent grounded in other religious or secular philosophies. By the time he writes Confessions, Augustine seems a trifle embarrassed about having been so impressed, as a young man, by a pagan writer. So he finds a way to absolve himself of the sin of attraction to small-"c" catholic, often secular intellectual interests by limiting Cicero to his assigned role as one step in a fourth-century boy's journey toward capital-"C" Catholicism. It is the adult Augustine who must reconcile his enthusiasm for Cicero with the absence of the name of Christ; there is no reason why this should have bothered the pagan adolescent Augustine at all. Nevertheless, no passage in the writings of the fathers of the church, or in any personal accounts of the intellectual and emotional process of conversion, explains more lucidly (albeit indirectly) why the triumph of Christianity inevitably begins with that other seeker on the road to Damascus. It is Paul, after all, not Jesus or the authors of the Gospels, who merits a mention in Augustine's explanation of how his journey toward the one true faith was set in motion by a pagan.
It is impossible to consider Augustine, the second most important convert in the theological firmament of the early Christian era, without giving Paul his due. But let us leave Saul—he was still Saul then—as he awakes from a blow on his head to hear a voice from the heavens calling him to rebirth in Christ. Saul did not have any established new religion to convert to, but Augustine was converting to a faith with financial and political influence, as well as a spiritual message for the inhabitants of a decaying empire. Augustine's journey from paganism to Christianity was a philosophical and spiritual struggle lasting many years, but it also exemplified the many worldly, secular influences on conversion in his and every subsequent era. These include mixed marriages; political instability that creates the perception and the reality of personal insecurity; and economic conditions that provide a space for new kinds of fortunes and the possibility of financial support for new religious institutions.
Augustine told us all about his struggle, within its social context, in Confessions—which turned out to be a best-seller for the ages. This was a new sort of book, even if it was a highly selective recounting of experience (like all memoirs) rather than a "tell-all" autobiography in the modern sense. Its enduring appeal, after a long break during the Middle Ages, lies not in its literary polish, intellectuality, or prayerfulness—though the memoir is infused with these qualities—but in its preoccupation with the individual's relationship to and responsibility for sin and evil. As much as Augustine's explorations constitute an individual journey—and have been received as such by generations of readers—the journey unfolds in an upwardly mobile, religiously divided family that was representative of many other people finding and shaping new ways to make a living; new forms of secular education; and new institutions of worship in a crumbling Roman civilization.
After a lengthy quest venturing into regions as wild as those of any modern religious cults, Augustine told the story of his spiritual odyssey when he was in his forties. His subsequent works, including The City of God, are among the theological pillars of Christianity, butConfes­sions is the only one of his books read widely by anyone but theologically minded intellectuals (or intellectual theologians). In the fourth and early fifth centuries, Christian intellectuals with both a pagan and a religious education, like the friends and mentors Augustine discusses in the book, provided the first audience for Confessions. That audience would probably not have existed a century earlier, because literacy—a secular prerequisite for a serious education in both paganism and Christianity—had expanded among members of the empire's bourgeois class by the time Augustine was born. The Christian intellectuals who became Augustine's first audience may have been more interested than modern readers in the theological framework of the autobiography (though they, too, must have been curious about the distinguished bishop's sex life). ButConfessions has also been read avidly, since the Renaissance, by successive generations of humanist scholars (religious and secular); Enlightenment skeptics; nineteenth-century Romantics; psychotherapists; and legions of the prurient, whether religious believers or nonbelievers. Everyone, it seems, loves the tale of a great sinner turned into a great saint.
In my view, Augustine was neither a world-class sinner nor a saint, but his drama of sin and repentance remains a real page-turner.
Here & Now
==
An old post-
Augustine & string theory
Is anyone, from God on down, "pulling our strings"? We'd not be free if they were, would we? If you say we would, what do you mean by "free"? Jesus and Mo have puzzled this one, behind the wheel with with Moses and with "
Free Willy
." But as usual, the
Atheist Barmaid is unpersuaded
.
(As I always must say, when referencing
this strip
: that's not Jesus of Nazareth, nor is it the Prophet Mohammed, or the sea-parter Moses; and neither I nor Salman Rushdie, the Dutch cartoonists, the anonymous Author, or anyone else commenting on religion in fictional media are blasphemers. We're all just observers exercising our "god-given" right of free speech, which of course extends no further than the end of a fist and the tip of a nose. We'll be celebrating precisely that, and academic freedom, when we line up to take turns reading the Constitution this morning.
No, they're just a trio of cartoonish guys who often engage in banter relevant to our purposes in CoPhi. It's just harmless provocation, and fun. But if it makes us think, it's useful.)
Augustine proposed a division between the "city of god" and the "earthly city" of humanity, thus excluding many of us from his version of the cosmos. "These two cities of the world, which are doomed to coexist intertwined until the Final Judgment, divide the world's inhabitants."
SEP
And of course he believed in hell, raising the stakes for heaven and the judicious free will he thought necessary to get there even higher. If there's no such thing as free will, though, how can you do "whatever the hell you want"? But,
imagine there's no heaven or hell
. What then? Some of us think that's when free will becomes most useful to members of a growing, responsible species.
Someone posted the complaint on our class message board that it's not clear what "evil" means, in the context of our Little History discussion of Augustine. But I think this is clear enough: "there is a great deal of suffering in the world," some of it proximally caused by crazy, immoral/amoral, armed and dangerous humans behaving badly, much more of it caused by earthquakes, disease, and other "natural" causes. All of it, on the theistic hypothesis, is part and parcel of divinely-ordered nature.
Whether or not some suffering is ultimately beneficial, character-building, etc., and from whatever causes, "evil" means the suffering that seems gratuitously destructive of innocent lives. Some of us "can't blink the evil out of sight," in William James's words, and thus can't go in for theistic (or other) schemes of "vicarious salvation." We think it's the responsibility of humans to use their free will (or whatever you prefer to call ameliorative volitional action) to reduce the world's evil and suffering. Take a sad song and make it better.
Note the Manichaean strain in Augustine, and the idea that "evil comes from the body." That's straight out of Plato. The world of Form and the world of perfect heavenly salvation thus seem to converge. If you don't think "body" is inherently evil, if in fact you think material existence is pretty cool (especially considering the alternative), this view is probably not for you. Nor if you can't make sense of Original Sin, that most "difficult" contrivance of the theology shop.
"Augustine had felt the hidden corrosive effect of Adam's Fall, like the worm in the apple, firsthand," reminds Arthur Herman. His prayer for personal virtue "but not yet" sounds funny but was a cry of desperation and fear.
Like Aristotle, Augustine believed that the quality of life we lead depends on the choices we make. The tragedy is that left to our own devices - and contrary to Aristotle - most of those choices will be wrong. There can be no true morality without faith and no faith without the presence of God. The Cave and the Light
Bertrand Russell, we know, was
not a Christian
. But he was a bit of a fan of Augustine the philosopher (as distinct from the theologian), on
problems like time
.
As for Augustine the theologian and Saint-in-training, Russell's pen drips disdain.
It is strange that the last men of intellectual eminence before the dark ages were concerned, not with saving civilization or expelling the barbarians or reforming the abuses of the administration, but with preaching the merit of virginity and the damnation of unbaptized infants.
Funny, how the preachers of the merit of virginity so often come late - after exhausting their stores of wild oats - to their chaste piety. Not exactly paragons of virtue or character, these Johnnys Come Lately. On the other hand, it's possible to profess a faith you don't understand much too soon. My own early Sunday School advisers pressured and frightened me into "going forward" at age 6, lest I "die before I wake" one night and join the legions of the damned.
That's an allusive segue to today's additional discussion of Aristotelian virtue ethics, in its turn connected with the contradictions inherent in the quest to bend invariably towards Commandments. "Love your neighbor": must that mean, let your neighbor suffer a debilitating terminal illness you could pull the plug on? Or is the "Christian" course, sometimes, to put an end to it?
We also read today of
Hume's Law
, Moore's
Naturalistic Fallacy
, the old fact/value debate.
Sam Harris
is one of the most recent controversialists to weigh in on the issue, arguing that "good" means supportive of human well-being and flourishing, which are in turn based on solid facts. "The answer to the question, 'What should I believe, and why should I believe it?' is generally a scientific one..."
Brain Science and Human Values
Also: ethical relativism, meta-ethics, and more. And maybe we'll have time to squeeze in consideration of the perennial good-versus-evil trope. Would there be anything "wrong" with a world in which good was already triumphant, happiness for all already secured, kindness and compassion unrivaled by hatred and cruelty? I think it might be just fine. Worth a try, anyway. Where can I vote for that?