There isn't a practical reason for believing what isn't true. If it's true you should believe it, if it isn't you shouldn't.
It's dishonesty and intellectual treachery to hold a belief because you think it's useful and not because you think it's true.
In all affairs it's a healthy thing now and then to hang a question mark on the things you have long taken for granted.
"On recordings he sounds like something from another century - which he was: he was born in 1872..." and lived 'til 1970, from the Age of Victoria to the moon.

It is the preoccupation with possessions, more than anything else that prevents us from living freely and nobly.
The whole problem with the world is that fools and fanatics are always so certain of themselves, but wiser men so full of doubts.
Most people would sooner die than think; in fact, they do so.
Fear is the main source of superstition, and one of the main sources of cruelty. To conquer fear is the beginning of wisdom.
And if there were a God, I think it very unlikely that He would have such an uneasy vanity as to be offended by those who doubt His existence.
I do not pretend to be able to prove that there is no God. I equally cannot prove that Satan is a fiction. The Christian god may exist; so may the gods of Olympus, or of ancient Egypt, or of Babylon. But no one of these hypotheses is more probable than any other: they lie outside the region of even probable knowledge, and therefore there is no reason to consider any of them.
As a philosopher, if I were speaking to a purely philosophic audience I should say that I ought to describe myself as an Agnostic, because I do not think that there is a conclusive argument by which one can prove that there is not a God. On the other hand, if I am to convey the right impression to the ordinary man in the street I think that I ought to say that I am an Atheist, because, when I say that I cannot prove that there is not a God, I ought to add equally that I cannot prove that there are not the Homeric gods.
Do you think that, if you were granted omnipotence and omniscience and millions of years in which to perfect your world, you could produce nothing better than the Ku Klux Klan or the Fascists?
Why I Am Not a Christian
Suppose a contradiction were to be found in the axioms of set theory. Do you seriously believe that a bridge would fall down?
The chief danger to our philosophy, apart from laziness and woolliness, is scholasticism, . . . which is treating what is vague as if it were precise....
Logic issues in tautologies, mathematics in identities, philosophy in definitions; all trivial, but all part of the vital work of clarifying and organising our thought.
Frank Ramsey (1903-1930)
A sentence is factually significant to any given person, if, and only if, he knows how to verify the proposition which it purports to express — that is, if he knows what observations would lead him, under certain conditions, to accept the proposition as being true, or reject it as being false.
Stealing money is wrong" has no factual meaning — that is, expresses no proposition which can be either true or false. It is as if I had written "Stealing money!!
Theists of all kinds have very largely failed to make their concept of a deity intelligible; and to the extent that they have made it intelligible, they have given us no reason to think that anything answers to it.
The existence of a being having the attributes which define the god of any non-animistic religion cannot be demonstratively proved... [A]ll utterances about the nature of God are nonsensical.
[Much later in life, Ayer had a Near Death Experience and wrote about it in an essay he titled "What I Saw When I Was Dead"...]
My recent experiences have slightly weakened my conviction that my genuine death, which is due fairly soon, will be the end of me, though I continue to hope that it will be. They have not weakened my conviction that there is no God.
[A few days later he added:] W
hat I should have said is that my experiences have weakened, not my belief that there is no life after death, but my inflexible attitude towards that belief."
[His wife said] "Freddie became so much nicer after he died… not nearly so boastful. He took an interest in other people."
There is philosophy, which is about conceptual analysis — about the meaning of what we say — and there is all of
this
… all of life.
[Near death, explained]
Not long before his NDE, Ayer had an improbable run-in with prizefighter Mike Tyson.
Ayer -- small, frail, slight as a sparrow and then 77 years old -- was entertaining a group of models at a New York party when a girl ran in screaming that her friend was being assaulted in a bedroom. The parties involved turned out to be Tyson and Naomi Campbell.
''Do you know who [the bleep] I am?'' Tyson asked in disbelief when Ayer urged him to desist: ''I'm the heavyweight champion of the world.'' ''And I am the former Wykeham professor of logic,'' Ayer answered politely. ''We are both pre-eminent in our field. I suggest that we talk about this like rational men.''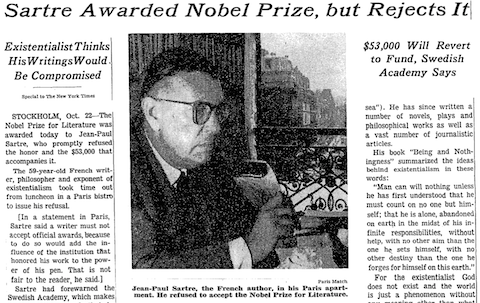 "I
f God does not exist there is at least one being whose existence comes before its essence, a being which exists before it can be defined by any conception of it."
So this is hell. I'd never have believed it. You remember all we were told about the torture-chambers, the fire and brimstone, the "burning marl." Old wives' tales!There's no need for red-hot pokers. HELL IS–OTHER PEOPLE!
Man is condemned to be free; because once thrown into the world, he is responsible for everything he does. "Life has no meaning a priori … It is up to you to give it a meaning, and value is nothing but the meaning that you choose.
Life has no meaning, the moment you lose the illusion of being eternal.
Words are loaded pistols.
Life begins on the other side of despair.
Nothingness lies coiled in the heart of being – like a worm.
There is no love apart from the deeds of love; no potentiality of love other than that which is manifested in loving; there is no genius other than that which is expressed in works of art.
An individual chooses and makes himself.
If I became a philosopher, if I have so keenly sought this fame for which I'm still waiting, it's all been to seduce women basically.
It is disgusting — Why must we have bodies?
I carry the weight of the world by myself alone without help, engaged in a world for which I bear the whole responsibility without being able, whatever I do, to tear myself away from this responsibility for an instant.
Life is a useless passion.
There is only one day left, always starting over: It is given to us at dawn and taken away from us at dusk.

de Beauvoir:
Why one man rather than another? It was odd. You find yourself involved with a fellow for life just because he was the one that you met when you were nineteen.
One is not born, but rather becomes, a woman.
Fathers never have exactly the daughters they want because they invent a notion a them that the daughters have to conform to.
Man is defined as a human being and a woman as a female — whenever she behaves as a human being she is said to imitate the male.
She was ready to deny the existence of space and time rather than admit that love might not be eternal.
A man attaches himself to woman — not to enjoy her, but to enjoy himself.
If you live long enough, you'll see that every victory turns into a defeat.
I am incapable of conceiving infinity and yet I do not accept finity.
I am awfully greedy; I want everything from life. I want to be a woman and to be a man, to have many friends and to have loneliness, to work much and write good books, to travel and enjoy myself, to be selfish and to be unselfish… You see, it is difficult to get all which I want. And then when I do not succeed I get mad with anger.
Self-consciousness is not knowledge but a story one tells about oneself.
Few tasks are more like the torture of Sisyphus than housework, with its endless repetition: the clean becomes soiled, the soiled is made clean, over and over, day after day.
Should I kill myself, or have a cup of coffee?
There is but one truly serious philosophical problem and that is suicide. Judging whether life is or is not worth living amounts to answering the fundamental question of philosophy. All the rest — whether or not the world has three dimensions, whether the mind has nine or twelve categories — comes afterwards. These are games; one must first answer.
You will never be happy if you continue to search for what happiness consists of. You will never live if you are looking for the meaning of life.
There are causes worth dying for, but none worth killing for.
I do not believe in God and I am not an atheist. [Sounds like (Groucho) Marxism again...]
Always go too far, because that's where you'll find the truth.
Real generosity toward the future lies in giving all to the present.